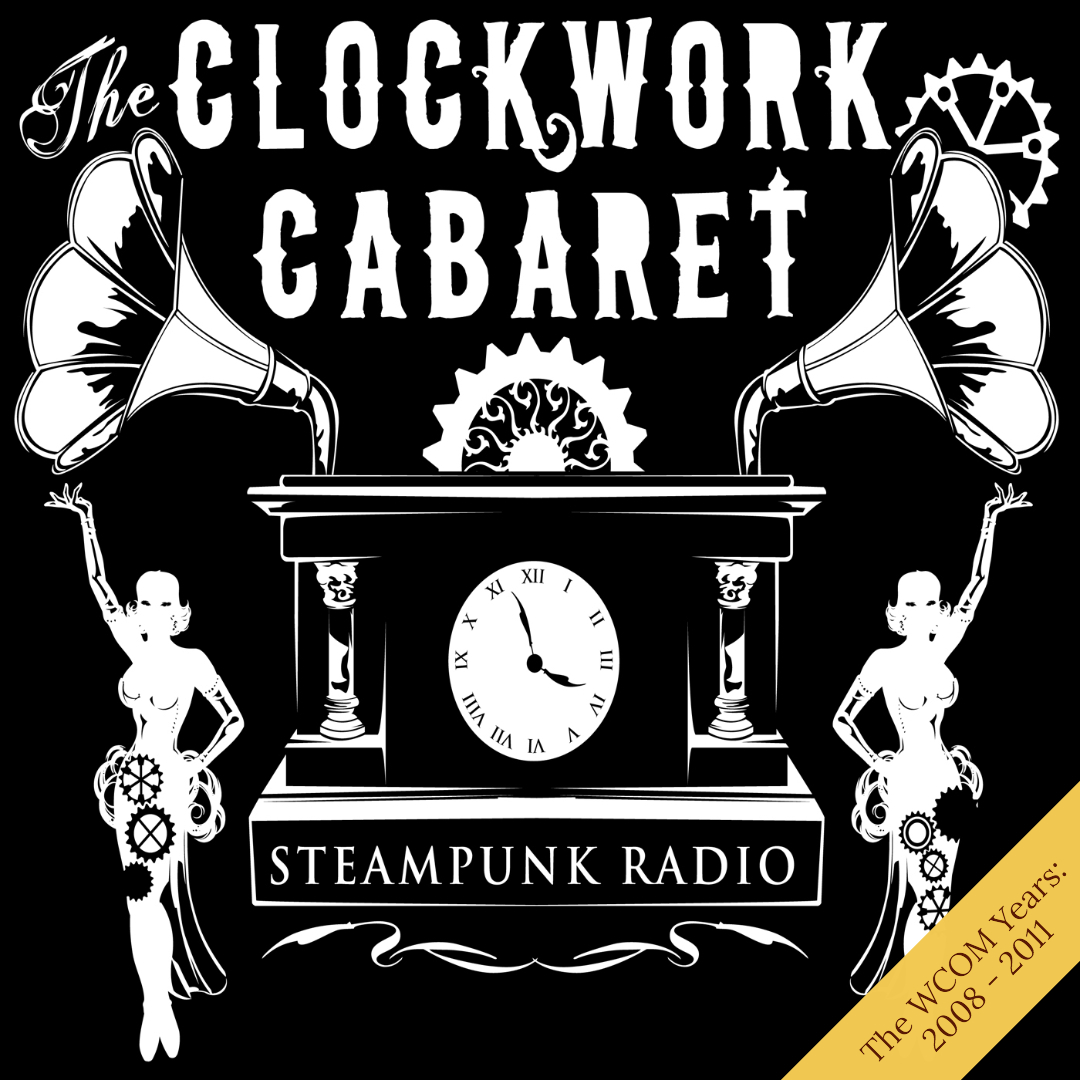 Bonjour! Or perhaps bonsoir, gentle listeners, apply as the current time would dictate. The Davenport sisters would like to present you with episode 5 of The Clockwork Cabaret. What happened to episodes 3 and 4, you ask? Epic failure of the Davenport sisters' recording devices led to an unrecorded third show, an poor Klaude half blew up not only herself, but also the cylinder on which episode four was recorded. She's had a pout and a sulk over that mistake, and hopefully learned her lesson. Which brings us to... Episode Cinq! The sisters hover peacefully above Paris on this lovely February night. Emmett delights with tales of her most memorable visit to Paris and poetry from Baudelaire, while Klaude shares another installment in her modest collection of botched inventions and the sisters enjoy the inevitable visit by Phineas P. Moneyload, Rogue Financier. The sisters also have a thrilling announcement and invitation which they wish to extend via the following aethernet website for your presence attending The Clockwork Ball.
Dr. Steel - Planet X Marks the Spot
The Hackensaw Boys - Gospel Plow
Leon Redbone - Somewhere Down Below the Dixon Line
The Damned - Alone Again Or
Holly GoLightly & the Brokeoffs - Devil Do
Public Image Limited - Swan Lake
Stephen J. Sparks - Monkeyshine Pantsuit
Thomas Dolby - Europa & the Pirate Twins
Iain Bellamy - Close to You (from Mirrormask)
Fad Gadget - Collapsing New People
Simon Boswell - It's Horrible, I Love It, What Is It?
France Gall - La Fille D'un Garcon
DeVotchKa - Somethin' Stupid
Tom Waits - A Little Drop of Poison
Brodskey Quartet with Elvis Costello - I Almost Had a Weakness
The Scarring Party - Follow It Down
Chris Isaak - I'm Not Sleepy
Asylum Street Spankers - Be Like You
Vernian Process - The Elegance of Espionage
Beautiful South - Les Yeux Ouverts
Smashing Pumpkins - Ava Adore
Rasputina - Cage in a Cave
Joe Strummer & the Mescaleros - Mondo Bongo
Cocteau Twins - Pitch the Baby
Nouvelle Vague - In A Manner of Speaking
Robert Preston & Julie Andrews - Me & You
Einsturzende Neubauten - Silence is Sexy
A la prochaine, dear listeners!
Logo: David Göbel, bulletride.de
Produced by the Clockwork Cabaret. Hosted by Emmett & Klaude Davenport.
More Info: clockworkcabaret.com, and follow @clockwrkcabaret on Twitter or Facebook.
Play Now